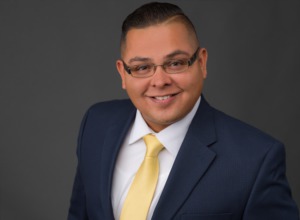 Raised in Seely California, Fidel is a long-term resident of the Imperial Valley and graduated from Central Union High School. You may recognize him from our local bowling alley as he supervised there prior to venturing into the real estate industry. Fidel's endeavors have made him the go-to agent he is today. His background in Energy Efficiency Technology, and experience as the ARJ Team Destroyer, Director of Operations, has given him a broad knowledge base that he applies to the real estate industry & marketing your home with a target objective.
Fidel joined Roben Real Estate in the fall of 2018 and has a passion for making the real estate transaction easy. He has helped hundreds of families achieve the American dream and he has walked in your shoes; he and his wife became first time homeowners during this pandemic. Fidel is a loving husband and proud father to two beautiful daughters and one handsome son. In his spare time, you may find him spending time with his family or cousin Andy Ruiz Jr. Fidel cannot wait to help you buy or sell your next property.
Call Fidel at (760) 960-7018 to get started today, and remember #itcanbeeasy.